For Sale - 14.5" f/4.5 Astrosystems TeleKit and accessories - $2,650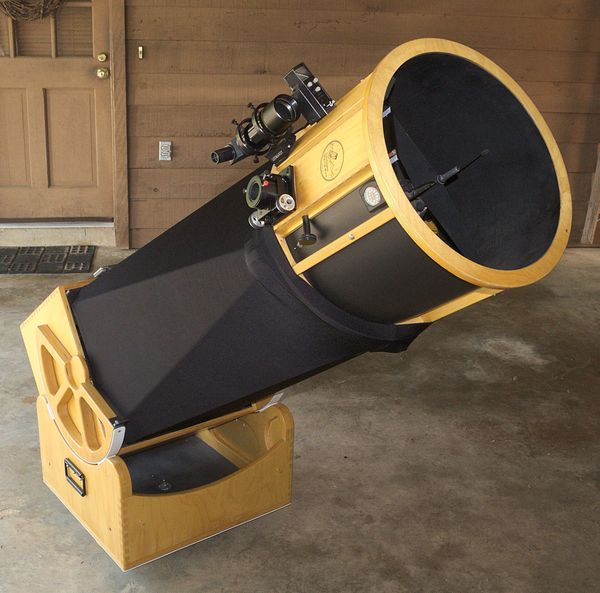 You can see more photos here:
http://lphilpot.zenfolio.com/p29338759
This is a 2003-era TeleKit, built around optics from a Sky-Designs "VPT" Dobsonian, with a mirror made by Danny Arthur. I have no performance specs on it, but have never been disappointed nor had any reason to doubt its quality. Danny wasn't able to provide any numbers from his notes, but said this on Cloudy Nights: "This mirror was made in February of 1992 and I must have really liked it because I noted in my records Butefull!!" (
https://www.cloudynights.com/topic/5595 ... rror-edge/
).
Built from HVHC Baltic Birch plywood with finger joints on all corners and sides. If you've ever seen a TeleKit, you know how beautiful and strong they are.
Two-speed 2" JMI Crayford focuser
9-point flotation mirror mount with cloth-covered stainless steel sling
9x50 Orion RACI finder in a Losmandy ring mount and Rigel QuikPoint with a 2x AA battery pack mod.
Astrosystems Lycra light shroud
Astrosystems Dew Guard on the secondary mirror with on / off switch on the UTA
Two internal batteries in the mirror box power the mirror box fan and Dew Guard
3-hole covered 2" filter slide (4 holes, actually but one is left empty)
Wheelbarrow handles with pneumatic tires
Extras / accessories
Vinyl storage pouch for the truss tubes
120 VAC "wall wart" battery charger and 12 VDC charging cable
Two 6' wooden ramps with aluminum ends
Astrosystems 2" Phase IV focuser - There's nothing wrong with the Phase IV, but I was given the JMI by a friend and decided to use it instead. The Phase IV is included with the scope if you want to swap it back.
Digital thermometer on the primary mirror (with a LONG lead that doesn't need to be removed for cleaning!)
Includes a custom made heavy duty cover made of vinyl with a cloth backing. It fits over the scope in the "prone" position to avoid being blown over (e.g., at a star party). I'll also throw in a used but still perfectly functional Mylar cover.
Although not currently mounted on the scope, I'll include a Lumicon NGC-Sky Vector DSC system (a Tangent box, with 4K encoders and both Lumicon and Astrosystems mounting hardware). I took it off when I bought an equatorial platform a few years ago, but it was 100% functional when it was removed and hasn't been used since.
I've tweaked a few things over the years but all changes be reversed back to the original design ...however you probably don't want to...
I still have all the hardware I changed or replaced and will include that with the scope. I replaced the roller-bearing altitude and azimuth bearings with properly sized and positioned Teflon pads riding against "FRP" board.
Why do I want to sell it? Well, I don't entirely
want
to sell it but due to vehicle changes and other reasons, I'm looking to downsize a bit. The scope is used, but definitely not abused. You'll see signs of normal use, but that's all. If it were in spotless mint condition, it would be priced accordingly. It's a premium design still in good condition, but it's not in "never-touched-new-out-of-the-box" shape.
I don't want to ship this scope. I'm located in Pineville (Alexandria) and am willing to meet the buyer within a ~300 mile radius. I'll be taking it to the Texas Star Party in May, so if you're going it'll be available to examine, try out and take home with you.
Sorry, I'm not setup to receive PayPal - Cash or cashier's check only
Len Philpot
lphilpot01@gmail.com